This US visit was very important for her. She met a lot of people and feels encouraged to go on with her mission to free her husband.
Filming for Tibet would like to thank Committee of 100, ICT, Amnesty International USA, State of Control production, SFT, RTYC NY, TANC, BAFoT and the many other Tibetan and individual supporters groups  in New York, Washington, Boston and California for their great program and also for the kindness and friendship that they extended to her.
There were some positive developments such as Dhondup Wangchen being named by the State Departement as one of the prominent cases of people who are put in prison because they fought for the right to express their views freely. We hope that his release will be soon!
Her next stop will be Canada. Click here for her detailed itinerary.
For inquiries and media request contact: info(at)leavingfearbehind.com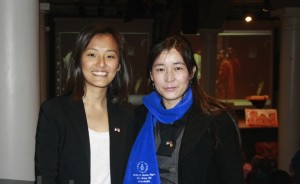 Lhamo Tso with Tenzin Seldon (SFT) at the Amnesty event "Get on the Bus"
New York, 27 May 2012