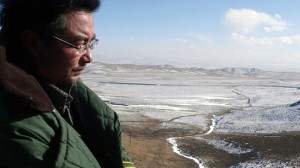 Tibetan filmmaker Pema Tseden has won the "Best Narrative Feature" for his movie "Old Dog" (Khyi rgan) at the Brooklyn Film Festival which concluded yesterday. Old Dog will be one of the high-lights of this year's Tibet Film Festival (TFF) in Zurich and Dharamsala from 26 till 28 October 2012.
Competing with more than 100 premieres from nearly 30 countries, "Old Dog" was voted amongst the best at the June 1 – 10, 2012 Festival, winning a total of US $57,000 in prizes and film services.
See for more information on Brooklin Film Festival and Old Dog here.
Synopsis
A Tibetan sheep herder sells his father's prized Tibetan mastiff to a dealer without his father's approval. When his father finds out, he must travel into a frontier town to retrieve the dog that he raised for 12 years and is deeply attached to. The relation between father and son is turned upside down, and the mastiff has to be guarded at all times from dog-nappers and dealers who constantly harass the family with ever increasing offers. "Old Dog" is a poetic story about Tibet's changing society, where old values are in direct conflict with new.
Pema Tseden
Pema Tseden was born in 1969 in Amdo, the Tibetan region (Qinghai province). He is a member of the Chinese Film Directors' Association, Chinese Filmmakers' Association and Chinese Film Literature Association. He studied in the Northwest University for Nationalities, Beijing Film Academy and Lu Xun College respectively. He has earned a Master's Degree in Literature and Arts. Since 1991, Pema Tseden has published more than 50 pieces of short and medium-length novels both in Tibetan and Chinese. Some of his works have been translated into English, French and German among other languages. Some of them won the Tibetan literature prize Drang-char (sbrang-char) and the Rookie award for Chinese Contemporary Ethnic Literature. In 2002, Pema Tseden began his film career. His feature films are The Grassland (2004), The Silent Holy Stones (2005), The Search (2009) and Old Dog (2010). His films won numerous awards.