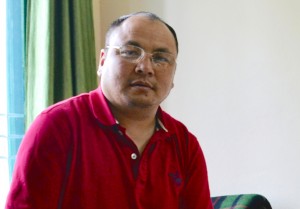 Golog Jigme Gyatso in Dharamsala, 19 May 2014.
Filming for Tibet is happy to share the amazing news of Golog Jigme's safe arrival in Dharamsala, India. Gyaljong Tsetrin, president of Filming for Tibet, has spoken to him and is relieved that Golog Jigme was able to escape from Tibet, finally reaching the Tibetan Reception Centre in Dharamsala on May 18, 2014.
Golog Jigme, aka Jigme Gyatso, was jailed for assisting filmmaker Dhondup Wangchen in the making of the documentary "Leaving Fear Behind" in 2008. He was arrested in 2008 and released after months of torture. However, he suffered from continued harassment by the police and then disappeared in 2012 after the police started a hunt for him under false charges.
Recently, Golog Jigme was listed by Reporters Without Borders among their list of "100 Information Heroes" on World Press Freedom Day.
More information to follow soon.