Dhondup Wangchen
Dhondup Wangchen is a Tibetan filmmaker and activist who has been detained by Chinese authorities since March 2008 on charges related to a 25-minute documentary titled "Leaving Fear Behind". The film is based on 35 hours of footage and 108 interviews that Wangchen conducted over five months. The footage includes candid conversations conducted in the Amdo region (located principally in today's Qinghai province) with Tibetans who expressed views on a range of issues, from the Dalai Lama and the 2008 Beijing Olympics to the human rights situation in Tibetan areas. Shortly after the film was distributed outside of China, Dhondup Wangchen and his assistant, Jigme Gyatso (aka Golok Jigme), a senior Tibetan monk, were arrested.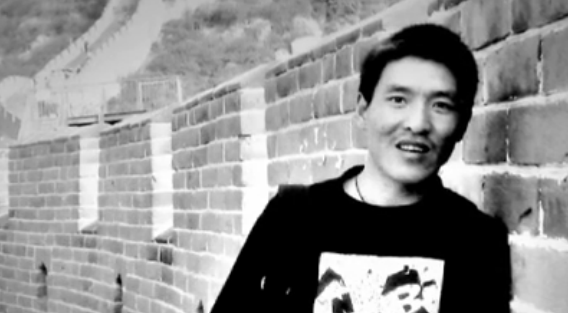 In 2006, Dhondup Wangchen and Jigme Gyatso conceived of a documentary interviewing ordinary Tibetan people on their views of the Dalai Lama and the Chinese government in the year leading up to the 2008 Beijing Olympics. The documentary was to be called "Leaving Fear Behind". The pair coordinated their efforts with Dhondup Wangchen's cousin Gyaljong Tsetrin, who lives in Switzerland. In preparation for likely reprisals by the Chinese government, Dhondup Wangchen moved his wife, Lhamo Tso, and their four children to Dharamsala, India.
The 25-minute documentary resulting from Dhondup Wangchen and Jigme Gyatso's footage was described by The New York Times as "an unadorned indictment of the Chinese government". The documentary premiered on August 6, 2008, in Beijing, a few days before the start of the Olympics.
Recommended reading list
"The story of Dhondup Wangchen, filmmaker jailed in China" By Dechen Pemba
"Where Does the Crime 'Subversion of State Power' Come From?" by Woeser
Wikipedia Article - Be careful about some dates and facts that are not confirmed.
Chronology
1974
Born in Bayen, in Qinghai/China
2006
First conceived of making a documentary film
2007
Start of filming with his assistant Jigme Gyatso
10 March 2008
Successful handover of final batch of film material to Dechen Pemba
26 March 2008
Arrest and interrogated by secret police
13 July 2008
Succeeds in escaping from his prison in a "guesthouse" for 24 hours
6 August 2008
Leaving Fear Behind is screened to a selected group of journalists in Hotel G, Beijing. Hotel Management and PSB personnel came in to the room and stop the screening. Two days later a screening for foreign human rights experts and diplomats is held in the Dutch Embassy in Beijing.
9 August 2008
Screening at the International Press Club, Delhi, India, organised by the Tibetan Journalists Association and Tibetan activists from Switzerland.
Lhamo Tso, wife of Dhondup Wangchen and Dorje Wangchen, brother of Dhondup Wangchen speak to a large group of press.
20 July 2009
Li Dunyong, family appointed lawyer from Beijing is not allowed to defend Dhondup Wangchen. Li is followed by Chang Boyang who also suffers from repression and is not allowed to defend his client in court.
28 December 2009
Sentenced for 6 years for "subversion of state power".
12 January 2010
Gyaljong Tsetrin publishes a personal video report about Dhondup Wangchen: http://www.youtube.com/watch?v=RotP79n0HTY
6 April 2010
Transfer to Xichuan prison, a labour camp concealed as an industrial manufacturer under the name of "Qinghai Xifa Water and Electricity Equipment Manufacture Installment Limited Liability Company".
Harsh living and working conditions deteriorate his physical condition. Suffers from Hepatitis B, contracted in detention and receives no medical treatment: http://tinyurl.com/xichuan-prison.
June 2010
Adopted as a member of "Human Rights Defenders Team" of Amnesty International, a campaign in connection with the Soccer World Cup: Amnesty.ch
20 April 2012
US State Department highlighted emblematic threats to journalists and presented Dhondup Wangchen as of the cases.
www.humanrights.gov
www.state.gov
2 September 2012
Special prize awarded by Qi Shi Cultural Foundation, Australia
14 September 2012
Announcement of International Press Freedom Award by Committee to Protect Journalists
15. January 2013
Family members visit Dhondup Wangchen in new prison. News release by Filming for Tibet on 21 January 2013 that he has been shifted to a labour camp and women's prison after six months of solitary confinement in 2012.
9. October 2013/17 October 2013
Lhamo Tso hands over a letter and some parcel to the PRC consulate in San Francisco for Dhondup whose birthday is on October 17. Worldwide activities  follow in support.  See for reports here. 
5 June 2014
Released from  from prison! Critical health condition. Heart problems.
See for news about his release here.
See  here for information about campaign .
25 December 2017
Arrives to safety in USA and is reunited with his wife Lhamo Tso and children.
Full press release and photos here.