Dhondup Wangchen's Visit to Washington DC Concludes
DC visit of Dhondup Wangchen a huge encouragement, says Filming for Tibet
Washington DC, February 15, 2017:
Tibetan video documentarist Dhondup Wangchen concluded his first visit to Washington DC today. The aims of his visit were to thank individuals and organisations who had supported him while imprisoned by China, to testify at a Hearing on Tibet by the Congressional-Executive Commission on China and to speak about the current situation in Tibet.
Dhondup Wangchen said: "This visit to Washington DC has been an opportunity for me to thank many people and organisations who closely followed my case while I was in prison and I have been very warmly welcomed here. While the situation inside Tibet has worsened since Leaving Fear Behind was released in 2008, Tibetans in Tibet have not given up their struggle for freedom."
Accompanying Dhondup Wangchen in DC, Dechen Pemba, spokesperson for Filming for Tibet said, "Many people we met in DC had re-watched Leaving Fear Behind and were commenting that the film had lost none of its power even ten years on. This speaks to the power of documentary filmmaking and the importance of highlighting voices from inside Tibet and should be an encouragement for us to continue this work with more determination."
During his 4 day visit, Dhondup Wangchen met with State Department officials, representatives from various human rights NGOs in DC, congressman Jim McGovern and the Representative of His Holiness the Dalai Lama. He testified at the Hearing on Tibet on February 14 in front of Senators Marco Rubio and Steve Daines, congressman Chris Smith and Ted Lieu were also present. Dhondup Wangchen spoke to the Tibetan and Mandarin services of Radio Free Asia and Voice of America and was interviewed by the Washington Post. Dhondup Wangchen was also honoured by Leader Nancy Pelosi at a reception attended by representatives and dignitaries.
Dhondup Wangchen was hosted in Washington DC by the International Campaign for Tibet and accompanied by his cousin Jamyang Tsultrim, his son Tenzin Norbu and Dechen Pemba.
Washington Post article with Dondup Wangchen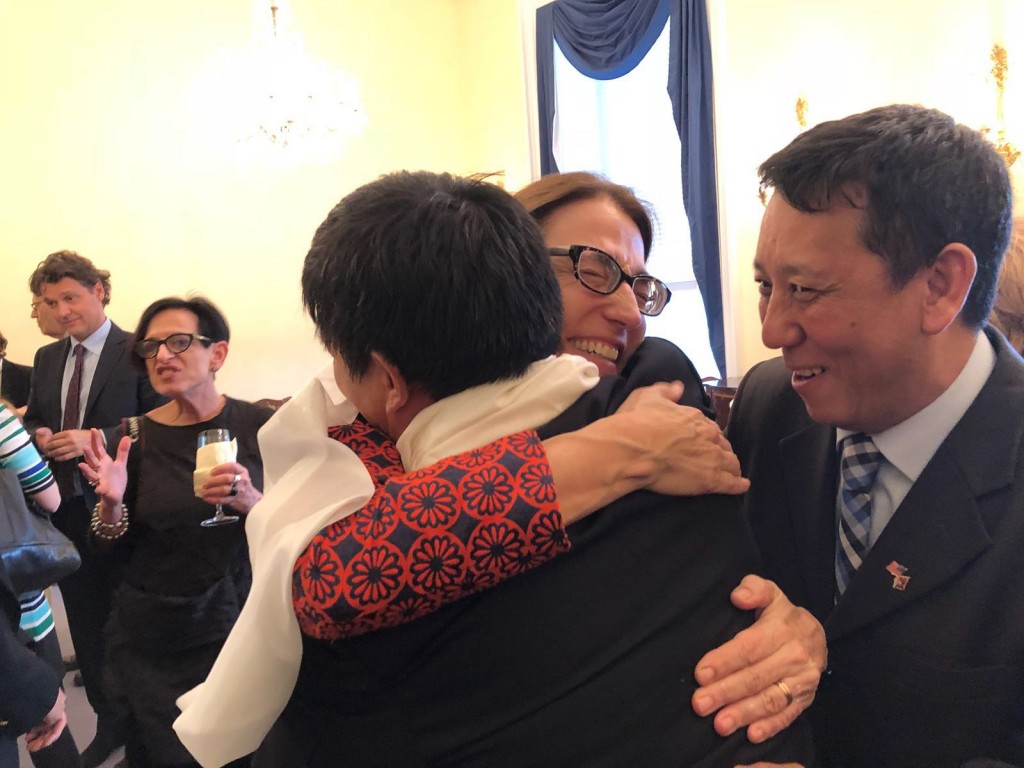 Sarah Sewall hugging Dhondup Wangchen, right Jamyang Tsultrim
Testimony of Dhondup Wangchen at the Hearing by the Congressional-Executive Commission on China on "Tibet "From All Angles": Protecting Human Rights, Defending Strategic Access, and Challenging China's Export of Censorship Globally"
February 14, 2018
United States Congress
Washington, D.C.