San Francisco, 27 December: Tibetan video activist Dhondup Wangchen arrived to safety in San Francisco on the afternoon of 25 December, after an arduous and risky escape from Tibet and the People's Republic of China.
A clearly tired but relieved Dhondup Wangchen, 43, said on arrival, "After many years, this is the first time I'm enjoying the feeling of safety and freedom. I would like to thank everyone who made it possible for me to hold my wife and children in my arms again. However, I also feel the pain of having left behind my country, Tibet."
Dhondup Wangchen will address the media fully in due course.
"Dhondup Wangchen is a courageous individual who never gave up his beliefs in basic human rights and freedoms. He felt he had no choice but to flee Tibet which was an extremely risky and dangerous escape. The fact is that he should never have been detained, imprisoned and tortured by China for filming and giving air to Tibetan grievances. Now he's finally free to speak out", said Wangpo Tethong, spokesperson from Filming for Tibet.
Detained by Chinese authorities in Tibet in March 2008 for making the documentary film "Leaving Fear Behind", Dhondup Wangchen was sentenced to six years in prison for "inciting subversion". His friend and assistant, Tibetan monk Golok Jigme, suffered from detention and torture, too. "Leaving Fear Behind" was released worldwide by Zurich-based Filming for Tibet lead by Dhondup Wangchen's cousin, Gyaljong Tsetrin.
Dhondup Wangchen's arrest and imprisonment sparked one of the most intensive campaigns for a Tibetan activist. He contracted Hepatitis B in prison and was made to undergo manual labour. Even though he was released from a prison in Qinghai's provincial capital Xining on June 5, 2014, he remained under strict surveillance with his movements and communications constantly monitored. Dhondup Wangchen was able to successfully evade the authorities and flee from his home area in Tibet and then the People's Republic of China altogether.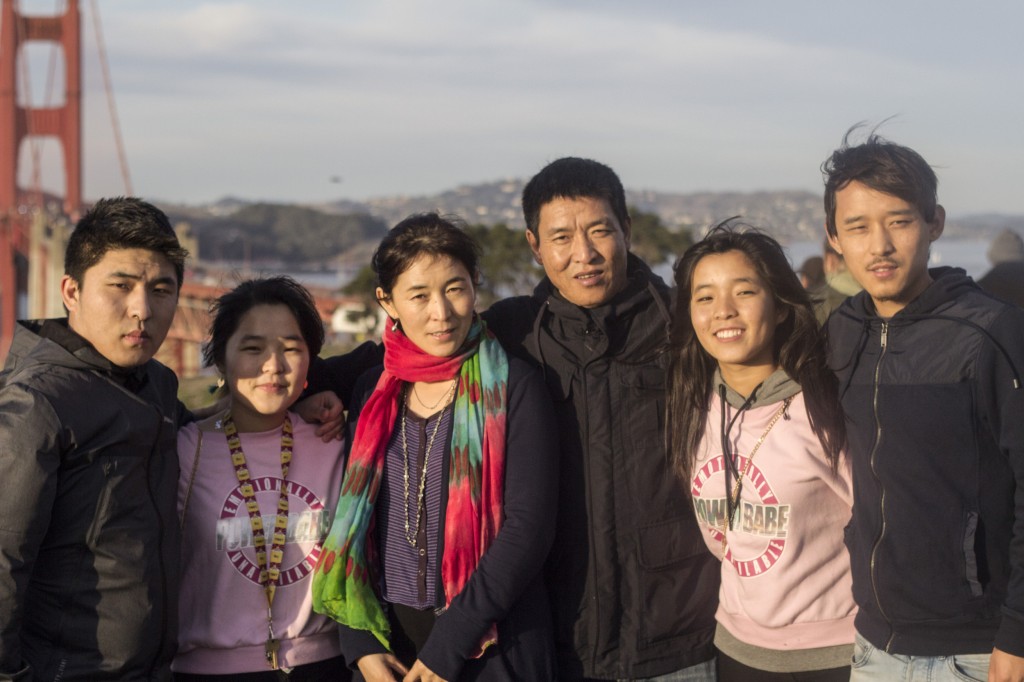 From left to right: Tenzin Norbu, Tenzin Dadon, Lhamo Tso, Dhondup Wangchen, Lhamo Dolma, Tashi Tsering in San Francisco on 26 December, 2017.
After many years of tireless campaigning for her husband, Dhondup Wangchen's wife Lhamo Tso and their children were granted political asylum in USA in 2012. Golok Jigme was able to escape from Tibet, reaching the Tibetan Reception Centre in Dharamsala, India in May 2014. He was granted political asylum in Switzerland in 2015.
Dhondup Wangchen's journey to safety has taken over ten years and Filming for Tibet would like to acknowledge the help and support of numerous private individuals, artists, groups, organisations and governments along the way. Dhondup Wangchen was recipient of the Committee to Protect Journalists International Press Freedom Award in 2012 and the Václav Havel International Prize for Creative Dissent in 2014.
Contact:
Wangpo Tethong (English, German): +1 415 802 7216
Dechen Pemba (English): + 44 20 3286 5186
Gyaljong Tsetrin (Tibetan): + 41 76 462 67 68
Media enquiries: media@filmingfortibet.org