Dhondup Wangchen, after six years in prison, thanks his family, friends and supporters for their tireless efforts and hopes to see them soon.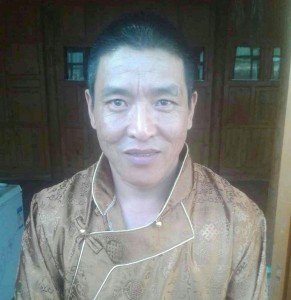 Dharamsala | Zurich | San Francisco, June 5, 2014  –  Dhondup Wangchen, the imprisoned Tibetan video-activist,  was released from prison in Qinghai's provincial capital Xining this morning after serving a six year sentence.  After some discussion with the authorities, he was finally driven by the police to Khotse (in Chinese, Keque, about two hours drive away from Xining) where he reached his sister's home after at around 15.00hrs local time.(1)
In a phone call to Gyaljong Tsetrin, cousin and president of Filming For Tibet, living in Switzerland,  a very emotional Dhondup Wangchen said: "At this moment, I feel that everything inside me is in a sea of tears. I hope to recover my health soon. I would like to express my feeling of deepest gratitude for all the support I received while in prison and I want to be reunited with my family."
Lhamo Tso, wife of the imprisoned filmmaker who was granted US asylum in 2012 and now lives in San Francisco, is overjoyed: "Six years of injustice and painful counting the days ended today.  It is a day of unbelievable joy for his parents in Dharamsala, our children and myself. We look forward to be reunited as a family."
Gyaljong Tsetrin, his cousin and co-producer of "Leaving Fear Behind", said after talking him to: "Though Dhondup is still under the control of the Chinese authorities I am very relieved that he finally could leave prison and has now the possibility to consult a doctor."
Dhondup Wangchen's case is known internationally. He has been awarded by various international organisations such as Committee to Protect Journalists for his courageous work making the documentary "Leaving Fear Behind" and his case was the focal point of many campaigns of international human rights groups such as Amnesty International and Reporters without Borders. Government representatives around the world have brought up his case in their talks with their Chinese counterparts.
The self-taught cameraman and video-activist travelled across Tibet with his assistant Golog Jigme in 2007/2008. His film "Leaving Fear Behind" (28 min.) has been translated into a dozen languages and has been screened in more than 30 countries worldwide. Golog Jigme recently just arrived in India after a spectacular escape from Tibet.
Dhondup Wangchen (born 1974 in Bayen, in Qinghai/Tibet/China) was sentenced to six years in prison on 28 December 2009. He was transferred on 6 April 2010 to the Xichuan prison, a labour camp concealed as an industrial manufacturer under the name of "Qinghai Xifa Water and Electricity Equipment Manufacture Installment Limited Liability Company".(2)  In March 2012 he was put in solitary confinement for approximately six months and was transferred in January 2013 in an unusual move to the Qinghai Provincial Women's Prison(3), the main prison for women in Qinghai province where he was the only male Tibetan political prisoner.

Media Contact
Lhamo Tso, San Francisco (Tibetan only,  +1 (510) 681-3244 (please remind Pacific Time!)
Gyaljong Tsetrin, Zurich (Tibetan only)  +41 76 462 67 68
Dechen Pemba, London  (English, Tibetan)  +44 74633 62253
Wangpo Tethong, Zurich (German, Tibetan)  +41 78 744 30 10
Follow us on Twitter
#UnchainTheTruth